Update: At least 16 dead including both pilots, and 123 injured as Air India flight from Dubai with 191 people onboard crash-lands at Calicut Airport (photos)
At least 16 people have died including both pilots after an Air India Express flight carrying 191 passengers skidded off the runway while landing at Calicut Airport in Kerala on Friday evening, August 7.
The Air India Express flight AXB1344, B737 from Dubai to Calicut overshot the runway with the aircraft splitting into two as it skidded into a 30ft-deep valley at Calicut airport, in the Indian State of Kerala, at around 7.45pm (2.45 pm GMT) today.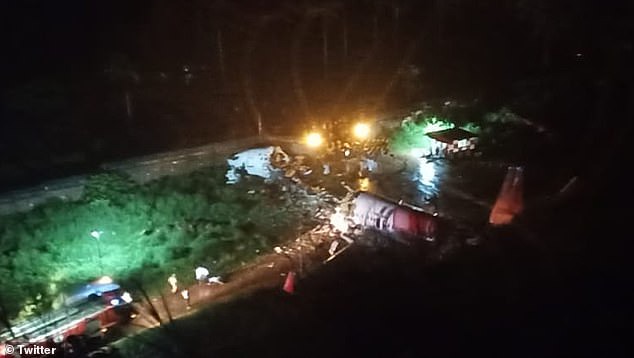 The flight was part of the Vande Bharat Mission, meant to bring home stranded people from other countries amid the Covid-19 pandemic.
It was reported that the two pilots tried to land in heavy rain after already aborting their first attempt and circling over the airport at its destination for 20 minutes.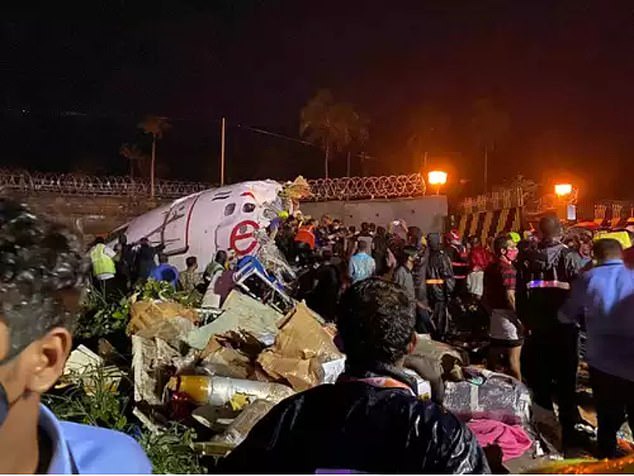 According to police reports, both pilots ( Captain Deepak Vasant Sathe and Captain Akhilesh Kumar) and 12 other individuals were killed in the disaster. Another 123 people were injured in the crash.
Air India Express said in a statement that there was 'no fire reported at the time of landing.'
It said there were 174 passengers, 10 infants, two pilots and five cabin crew onboard the aircraft.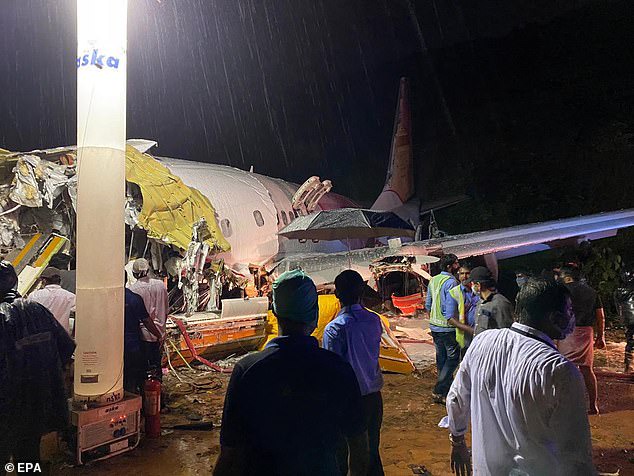 'I can confirm at least 14 deaths overall. Another 15 passengers have critical injuries. It is still a developing situation,' senior local policeman Abdul Karim told AFP.
'We have at least 89 people, many of them with serious injuries, admitted at different Kozhikode hospitals. The ambulances are still coming in,' said Sujith Das, another senior police official.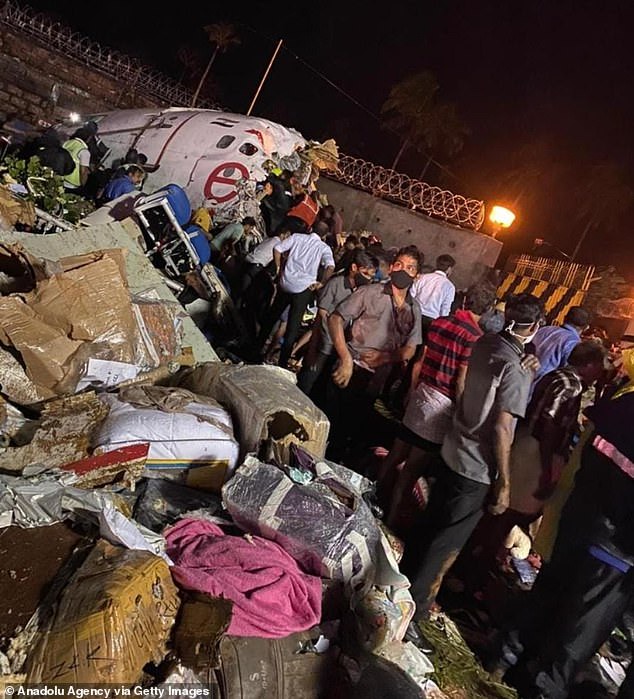 'We have been told that all those who have survived the crash also have some form of injuries.'
The NDTV news channel said 30-40 people were hospitalized and that other passengers had been evacuated from the aircraft.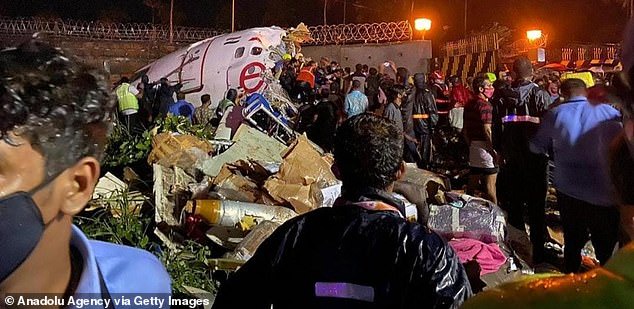 Amitabh Kant, who heads the government's planning commission, said 'the incident happened because of heavy rains and poor visibility. This is truly devastating,' he told NDTV.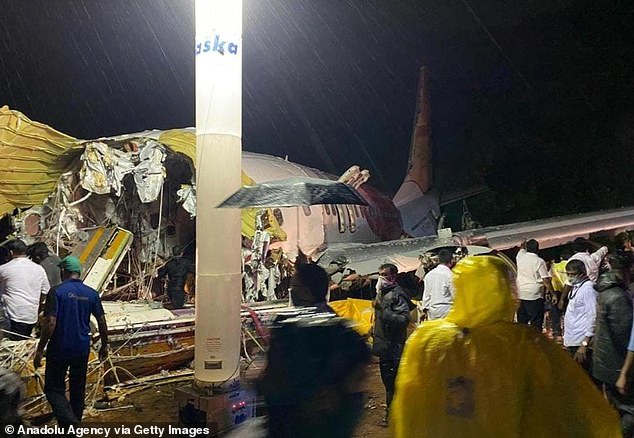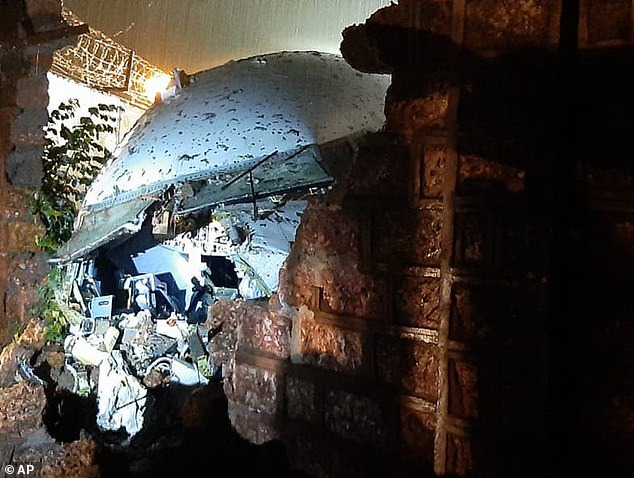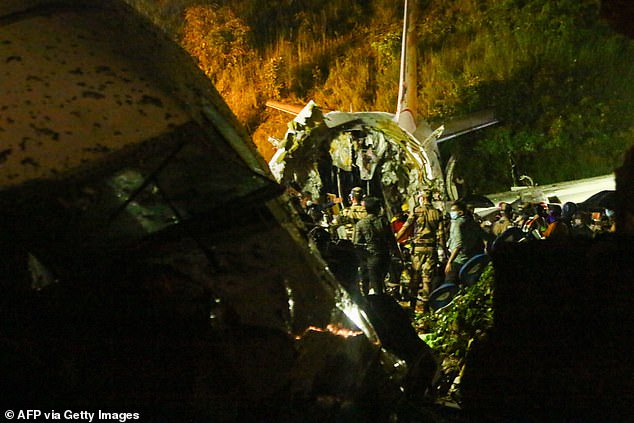 God will punish me if I was involved – Ex-minister denies being involved in stripping his staff naked over missing money
Former Minister of State for Petroleum, Olorogun Kenneth Gbagi has denied being involved in stripping some of his hotel staff naked over a missing money.
Recall that the Minister made headlines after being accused of arresting four of his hotel staff and stripping them naked for allegedly stealing N5,000. The four staff of the hotel have been identified as Gloria Oguzie, Victor Ephraim, Rosslyn Okiemute and Achibong Precious. It was also alleged that the hotel management forcefully made some withdrawals from their bank accounts with their ATM cards before the police took them away in a waiting van.
However commenting on the incident at a press conference held at his country home in Oginibo, Ughelli South council area of Delta state, Gbagi stressed that the said staff were not employees of the hotel but "freelancers". He added that there are records to back this up.
He further alleged that his political detractors who are out to truncate his plans to contest for the 2023 gubernatorial race in the state, are behind the trending video and photos.
Gbagi said;
"There was nothing as you have read, that happened. The people you saw in those pictures are not staff of my hotel. Legally, documentarily, they are not staff of the hotel. They are freelancers.

"Were you to do a forensic analysis of the video for my body on those pictures, and you find me there, I will resign from politics.

"I invited the Police from Ebrumede to take them. I will never descend to do such (strip people naked). It was politically motivated. I will not strip anybody's daughter naked or strip any person.

"This, to me, is just a distraction. I am resolute, I am contesting in 2023. Let God punish me if I touched any of the girls or was involved in their stripping. I am prepared. I know what they are planning."
The former Minister who also revealed that he is yet to receive a police invitation over the incident, added that he "will graciously attend any invitation of the Nigerian Police."
We will reopen land borders soon – Vice President Yemi Osinbajo
Vice President Yemi Osinbajo says the federal government is currently working towards reopening Nigeria's land borders.
Recall that in October 2019, President Buhari ordered the full closure of land borders as part of measures to checkmate smuggling activities.
However speaking at a webinar organized by The Africa Report, Vice President Osinbajo said the Federal government is working with neighbouring countries on the terms of reopening the border.
"We are working with our neighbours to see on what terms we would reopen those borders. At the moment, we are undertaking joint border patrols to control smuggling along the borders and we think it is working and I am sure that soon enough we should have the borders opened," he said.

We are committed to the AfCFTA but we are concerned about threats to security and the economy and we had to take certain actions that would satisfy the immediate needs of our country. It (border closure) certainly wasn't meant to be permanent and we are looking forward to reopening as quickly as possible." Osinbajo said
COVID-19 is a sign that God is not happy with us – Aisha Buhari
First Lady Aisha Buhari has stated that the COVID-19 pandemic is a sign that God is not happy with us.
Aisha Buhari said this on Friday, September 25, 2020, at the national mosque during a public lecture to mark Nigeria's 60th independence anniversary.
The First Lady who urged Nigerians to pray for peace, progress and sustainable development as the country marks its 60th independence anniversary, also appealed to Nigerians to keep supporting the President Muhammadu Buhari-led administration to ensure better welfare, saying the president cannot do it alone.
She said;
"The world is no longer the same as a result of the pandemic and the pandemic is a sign that almighty God is not happy with us.

"We need to pray for forgiveness. I think we have no choice than to continue asking for forgiveness from almighty Allah.

"The president cannot do it alone. He needs the support and cooperation of all Nigerians, including his appointees, to go in line with his change mantra."