Pakistani man buys land on moon as wedding gift for his wife (Photos)
A Pakistani man has bought a one-acre plot of land on the moon as a wedding gift to his wife.
Sohaib Ahmed, a resident of Rawalpindi, bought the lunar land in the region called 'Sea of Vapour'. The land was bought for $45 from the International Lunar Lands Registry.
The couple were sent the documents of the land on the moon at their home via US Postal Service.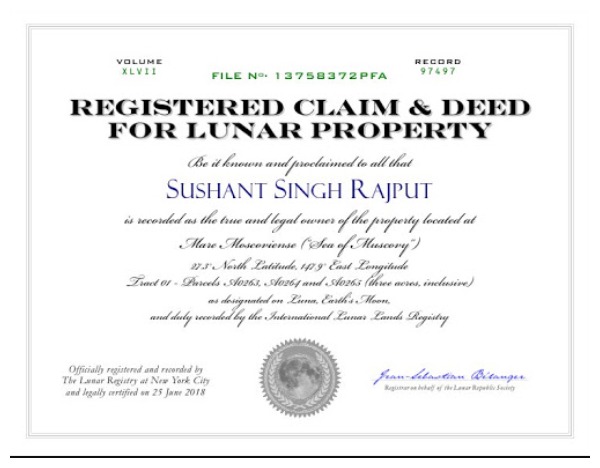 According to the Lunar Settlement Initiative's website, "under the terms of the LSI, property claims on Luna may be offered to private entities to finance the exploration, settlement, and development of the Moon and its resources."
It further states that "upon the recognition and certification of land claims, property owners shall be entitled to inhabit and develop their property in any manner, subject to any laws or statutes that may be established by the sovereign and independent government of Luna, which shall be freely elected by its citizens."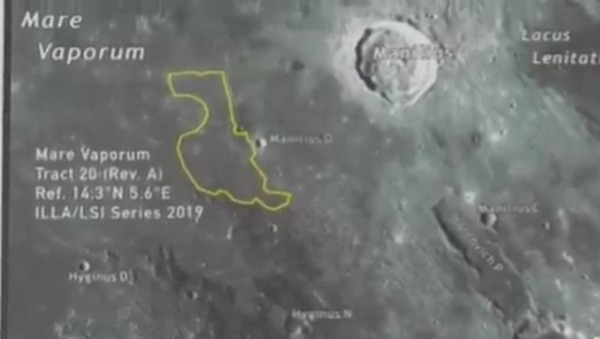 Ahmed said that he was inspired by late Bollywood actor Sushant Singh Rajput to buy his own piece of land on the moon. In 2018. Sushant bought a piece of land in the region of Mare Muscoviense, or the 'Sea of Muscovy' through the International Lunar Lands Registry.
His wife, Madiha said that her friends did not believe her when she told them about the shocking wedding gift she got from her husband.
 "At first everyone thought it was a joke, but then I showed them the documents and then they believed it," she told Samaa TV. She added that one of her friends also wants her fiancé to gift her a plot of land on the moon for their wedding.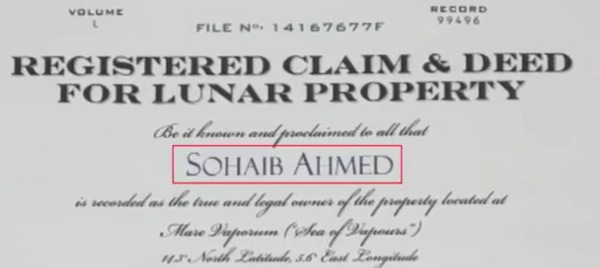 Romain Grosjean shares update from hospital after horror Formula 1 crash
Romain Grosjean, 34, has shared multiple updates from the hospital after he miraculously survived a horror crash that broke his car in half and saw it go up in flames while he was still in it.
The Haas-Ferrari driver said from the hospital that he is "loving life" after suffering only burns in Sunday's horror Formula One crash.
His car crashed into a barrier early on during the Bahrain Grand Prix and his vehicle subsequently exploded into a fireball.
Viewers were stunned to see the French-Swiss veteran walk away from the wreckage seemingly injury free after race stewards quickly intervened with a fire extinguisher.
It was later revealed that Grosjean would need to stay in hospital overnight to be treated for burns on his hands.
With large bandages visible in his latest update on Instagram, the driver wrote: "Thank you so much for all your messages. Loving life."
In an initial post, he said: "Hello everyone, I just wanted to say I am OK – well, sort of OK.
"Thank you very much for all the messages. I wasn't for the halo some years ago, but I think it's the greatest thing that we've brought to Formula 1.
"Without it I wouldn't be able to speak with you today."
Missing 3-year-old girl found safe and reunited with her mother in Rivers
A 3-year-old girl has been found safe and reunited with her mother after she went missing for six hours in Diobu area of Port Harcourt, the Rivers State capital.
The Commander of Diobu Vigilante group, Godstime Ihunwo, who confirmed the incident on Sunday, November 29, said that the child went missing due to the "carelessness" of her mother.
"Thanks b 2 God almighty as me & my boys in conjunction with 3 God-fearing & kind hearted men, whom out of their efforts made our job easier in rescuing one Miss Chinaza Ikpe, a 3 years old girl child that went missing 6 hours ago, at about 1pm 2day 29/11/2020, just bcs of d carelessness of her mother Mrs Chinasa. d Child has been handed over 2 d mother by me COMR. GODSTIME W. IHUNWO, d C.S.O./Commander Diobu Vigilante, RUMUELECHI COMMUNITY M/3 UNIT" he said.
Niger workers to resume suspended strike action on Tuesday
Workers in Niger state chapter of the Nigeria Labour Congress (NLC), have disclosed that they will be resuming their suspended indefinite strike action over the decision of the State Government to pay the November salaries of civil servants on a percentage basis.
Leaders of the organized labour in the state said the strike will resume on Tuesday, 1st December 2020 should the government fails to address their grievances.
The NLC disclosed this in a letter addressed to Governor Dani Bello through the Niger Head of Service and signed by NLC Chairman, Comrade Yakubu Garba and TUC Chairman, Comrade Tanimu Yunusa.
It read;
"We write on behalf of the State Executive Council (SEC) of Niger State Organised Labour to convey to your esteemed office the harmonized position of the affiliate unions as follows:

"That Niger State Government should refund the slashed June 2020 2020 salaries to desirable civil servants latest Tuesday, 1st December.

"That the discussion on payment of outstanding October 2020 salaries of local government workers must be conclusive on or before Tuesday, December 1, 2020.

"That the proposal by Niger State Government to pay November 2020 salaries of LGAs and state workers on a percentage basis is unacceptable and vehemently rejected.

"That failure of the government to address issues 1, 2 and 3 above, the Organized Labour will be left with no other option than to resume the earlier suspended indefinite strike action effective midnight of
Tuesday, December 1, 2020."