My boobs are my unique selling points – Comedienne Ada Ebere
Comedienne cum actress, Ada Ebere aka Ada la Pinky, is infuriated that her big boobs have become objects of attraction to men, and even women, who can't take their eyes off them.
While speaking with Inside Nollywood, she revealed that her big boobs, which are her unique selling points, are natural even though, some people think she had breast enlargement done.
"People see my boobs before they see me. Whenever I go out, men and women stare at my boobs before even looking at my face. So, I think my boobs are my unique selling points. I didn't do breast enlargement, they are all natural. I never liked big boobs. I'd have preferred a portable size but here I am blessed with large ones and I am grateful
However, I might do butts enlargement to align with my boobs, because I have always been a fan of big booties. I want to have big butts. Also, the sexual harassment I face comes only from ladies," she said.
However, Ada bemoaned her pains and discomfort for having large breasts.
"I can't run. I find it difficult to run unless I hold my chest. Another challenge is that I can't sleep on my chest; it has to be either upright or sideways. It was so painful during my growing up days" she said.
'Name one moral lesson you have learnt from Big Brother?" Reno Omokri tackles Nigerians watching #BBNaija reality TV show
Reno Omokri has taken to his Instagram page to once again tackle Nigerians who are addicted to the reality TV show, Big Brother Naija.
In a post shared social media, Reno challenged viewers of the show to enumerate the moral lessons they have learnt while watching the show.
His post reads
"You use your profile to campaign for your #BBNaija housemate. You even wear their branded T-Shirt and hold watch parties. Wrong focus. If you had put in this same effort towards selling a product, or promoting your business, you could have been a millionaire example of sell to excel by now!

Name one moral lesson you have learnt from Big Brother? Cite one example of how it has affected your personal development. ?Fuel and electric prices were raised, and the Naira was devalued, while you were distracted by BBNaija.

By the time BBN is over, and you are back to reality, you will realise that your sanity has been affected by the vanity you followed with clarity!?"
Pastor Chris Oyakhilome predicts when rapture will happen, says it won't exceed 10 years
Founder of Loveworld Ministries a.k.a Christ Embassy, Pastor Chris Oyakhilome has`spoken rapture and when it will happen.
According to the Church leader, Rapture won't exceed 10 years.
Pastor Chris who said this during an online ministration, urged everyone to give their life to Christ as "we are in the last hours."
If the Rapture doesn't happen in 3 years, it might be 6 years. If it doesn't happen by then, it cannot exceed 10 years…says Pastor Chris Oyakhilome

You have to give your heart to Jesus today because we are living in the LAST HOURS. Send us a DM and we will lead you to christ. It's that simple
PSG striker, Kylian Mbappe pictured hugging France team-mates in training hours before testing positive for coronavirus (photos)
Paris Saint-Germain striker, Kylian Mbappe tested positive for Coronavirus on Monday September 7, just hours after he was pictured hugging and touching France team-mates in training.
The 21-year-old trained with his teammates and even hugged PSG teammate Presnel Kimpembe before touching and larking around with Lille star, Jonathan Ikone.
He was also pictured stretching in the middle of a group of teammates before he was sent home with immediate effect after returning a positive result.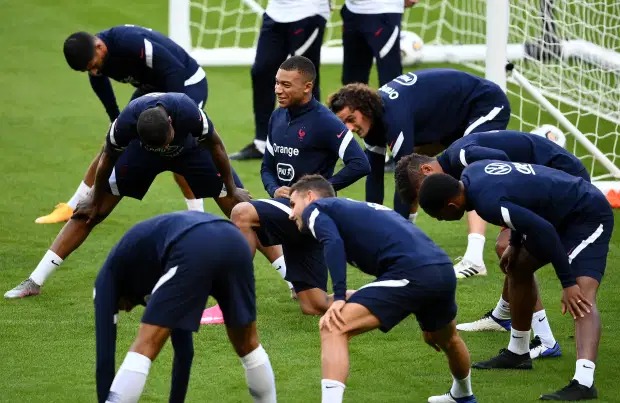 The France national football team is yet to address those he got in contact with, but Mbappe will miss France's Nations League clash with Croatia later today.
A statement from the FFF read: "Kylian Mbappe will not participate in France-Croatia, Tuesday evening at 8.45pm at the Stade de France.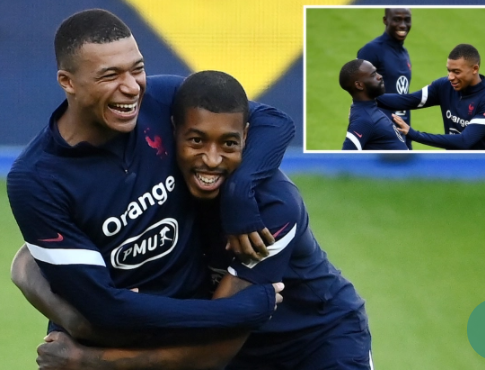 "The result of his Covid-19 test, carried out by Uefa on Monday morning, was found to be positive, he was placed away from the group after receiving the results, at the end of training, before regaining his home in the evening.
‌"Like the entire delegation, Kylian Mbappe had undergone a test prior to meeting. The result was negative, like the one last Wednesday, at the request of Uefa."