Major gas explosion destroys homes in Baltimore, killing 1 and trapping others (photos)
A major gas explosion has left one dead with several people injured in Baltimore, Maryland.
According to the Baltimore Firefighters Union IAFF Local 734, three-row houses in northwest Baltimore were completely destroyed and several people were injured on Monday morning, August 10. Multiple people, including children, had been trapped and rescued from the rubble as crews were continuing to search for more trapped occupants.
"This is a major incident," the IAFF Local 734 said in a tweet. More than 200 personnel were on scene, including officials with Baltimore County Fire, the city's emergency management office and Baltimore Gas and Electric, the union said.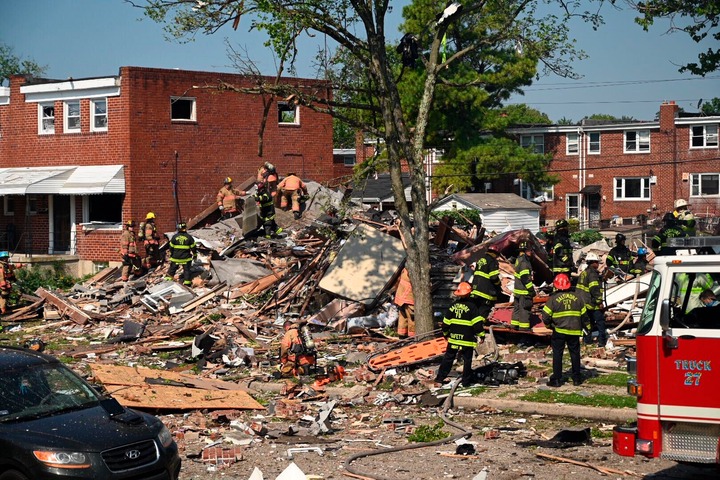 Two of the homes' occupants were taken to hospitals in serious condition, the fire department tweeted.
One destroyed home belonged to an 88-year-old U.S. Army veteran, the Baltimore Sun reported. That veteran, Major Watkins, Jr., said the explosion "sounded like Korea."
????ANOTHER SURVIVOR RESCUED????

An adult male was just freed from the rubble by the multi-jurisdictional rescue operation. He is being transported by #BCFDEMS to the hospital in serious condition. Rescuers continue to search the debris for other survivors.
Vehicles destroyed as container falls off trailer in Ogun (photos)
Some vehicles have been destroyed after the containers on a trailer fell off and landed on them along Sango road in Ogun state on Tuesday morning, September 29.
It is not yet certain if there are any casualties from the accident.
God will punish me if I was involved – Ex-minister denies being involved in stripping his staff naked over missing money
Former Minister of State for Petroleum, Olorogun Kenneth Gbagi has denied being involved in stripping some of his hotel staff naked over a missing money.
Recall that the Minister made headlines after being accused of arresting four of his hotel staff and stripping them naked for allegedly stealing N5,000. The four staff of the hotel have been identified as Gloria Oguzie, Victor Ephraim, Rosslyn Okiemute and Achibong Precious. It was also alleged that the hotel management forcefully made some withdrawals from their bank accounts with their ATM cards before the police took them away in a waiting van.
However commenting on the incident at a press conference held at his country home in Oginibo, Ughelli South council area of Delta state, Gbagi stressed that the said staff were not employees of the hotel but "freelancers". He added that there are records to back this up.
He further alleged that his political detractors who are out to truncate his plans to contest for the 2023 gubernatorial race in the state, are behind the trending video and photos.
Gbagi said;
"There was nothing as you have read, that happened. The people you saw in those pictures are not staff of my hotel. Legally, documentarily, they are not staff of the hotel. They are freelancers.

"Were you to do a forensic analysis of the video for my body on those pictures, and you find me there, I will resign from politics.

"I invited the Police from Ebrumede to take them. I will never descend to do such (strip people naked). It was politically motivated. I will not strip anybody's daughter naked or strip any person.

"This, to me, is just a distraction. I am resolute, I am contesting in 2023. Let God punish me if I touched any of the girls or was involved in their stripping. I am prepared. I know what they are planning."
The former Minister who also revealed that he is yet to receive a police invitation over the incident, added that he "will graciously attend any invitation of the Nigerian Police."
We will reopen land borders soon – Vice President Yemi Osinbajo
Vice President Yemi Osinbajo says the federal government is currently working towards reopening Nigeria's land borders.
Recall that in October 2019, President Buhari ordered the full closure of land borders as part of measures to checkmate smuggling activities.
However speaking at a webinar organized by The Africa Report, Vice President Osinbajo said the Federal government is working with neighbouring countries on the terms of reopening the border.
"We are working with our neighbours to see on what terms we would reopen those borders. At the moment, we are undertaking joint border patrols to control smuggling along the borders and we think it is working and I am sure that soon enough we should have the borders opened," he said.

We are committed to the AfCFTA but we are concerned about threats to security and the economy and we had to take certain actions that would satisfy the immediate needs of our country. It (border closure) certainly wasn't meant to be permanent and we are looking forward to reopening as quickly as possible." Osinbajo said