Just in: Shoprite is leaving Nigeria and here's why
The COVID-19 pandemic and the group's re-evaluation of its operating model in Nigeria means Shoprite is leaving town.
Africa's biggest grocery retailer and the South Africa-owned chain of stores, Shoprite, is exiting Nigeria–Africa's most populous nation and largest market–after 15 years.
Shoprite is re-evaluating its operating model across Africa, amidst logistic concerns and the novel coronavirus pandemic.
A dip in sales in Nigeria means it is now shutting shop.
"Following approaches from various potential investors, and in line with our re-evaluation of the group's operating model, in Nigeria, the Board has decided to initiate a formal process to consider the potential sale of all, or a majority stake, in Retail Supermarkets Nigeria Limited, a subsidiary of Shoprite International Limited," the company said in a statement.
"As such, Retail Supermarkets Nigeria Limited may be classified as a discontinued operation when Shoprite reports its results for the year. Any further updates will be provided to the market at the appropriate time."
Shoprite Holdings has reported a drop in annual earnings, hurt by an impairment charge it recorded during the year.
The Cape Town-based retailer has started a formal process to sell all or a majority stake in its supermarkets in Nigeria.
International supermarkets (excluding Nigeria) contributed 11.6% to group sales, and reported 1.4% decline in sales from 2018.
A struggle
South African retailers have struggled in the Nigeria market. Mr Price exited the Nigerian market after Truworths pulled out as well.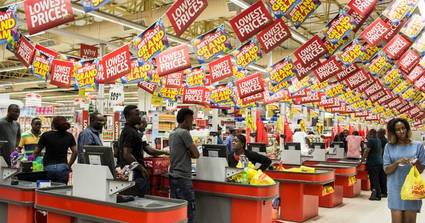 In April, Nairametrics reported that Shoprite Holdings in Nigeria lost 8.1% of its sales in constant currency terms at the end of the second half (H2) of 2019 due to September's Xenophobic attacks and reprisals back in Nigeria.
Chief Executive Officer of Shoprite, Pieter Engelbrecht, says: "we remain committed to operating on the continent but are limiting future expansion whilst we review our options with regards to alternate operating models.
"Notwithstanding this, we have taken a number of immediate operational actions, all of which are ongoing and include rent reductions, store closures, productivity improvements and de-dollarising costs.
"We are confident in the absence of further currency devaluations and any unforeseen circumstances that these operational measures will positively impact profitability. Looking ahead, the Group enters the second half with ongoing determination.
"Our investment in technology affords us greater visibility and results in better decision making across the business. This, together with the launch of our Xtra Savings Rewards Programme, is significant for the Group and bodes well for a future-fit Shoprite."
Shoprite's departure will leave a void in Nigeria's Fast Moving Consumer Goods (FMCG) sector; with attendant job losses in a country with high unemployment figures.
Too much humility can destroy you – Actress Chika Ike
Nollywood actress, Chika Ike has said that humility is self-destructive.
The beautiful thespian via her Instagram story, advised people that it is great to be humble, but that they should know when to switch it up. According to her, people take your humility for foolishness or timidity and too much of it can destroy you.
Read as she wrote below….
"Humility is great; it's a core value everyone should have. But you must know when and where to switch it up. Because some people in these streets will take your humility for foolishness or timidity. Too much humility is self-destructive."
DJ Cuppy weighs in on the pant washing conversation after BBNaija's Neo was seen washing Vee's pants
Neo washing his love interest Vee's pants on the BBNaija reality show has started a conversation across various social media platforms and DJ Cuppy has weighed in.
"Pant" is the number 1 trending topic amongst Nigerians on Twitter as some mocked Neo for washing a woman's underwear while others asked what is wrong in a man washing a woman's underwear when women do that for their men all the time.
Reacting to the pant washing debate, DJ Cuppy wrote: "Please EVERY person should wash their OWN pant themselves! #FreeCuppy"
A number of men reacted, expressing their willingness to wash Cuppy's underwear.
Davido shows off his drumming skills during a Praise and Worship session in Delta (video)
---
Davido and his friend and lawyer, Prince Ajudua, visited the Ajudua family in Asaba on Tuesday, September 22.
During the visit, a praise and worship session was held and Davido offered to play the drum set.