A young beautiful lady arrested for stealing an iPhone 7 Plus (video).
A video of a young beautiful lady who was arrested for allegedly stealing an iPhone 7 Plus has gone viral.
According to reports, she stole the phone from a shop and and hid it within her private part but was still caught.
In the video, the lady could be seen wearing a black top on a green trouser as she was being led out of the shop by a group of police men, amidst chanting from eyewitnesses.
Watch the video below…
See reactions from Nigerians
Actress, Pamela Anderson reportedly dating her bodyguard of two years months after splitting from her ex-husband, Jon Peters
Pamela Anderson has reportedly found love again.
The American-Canadian actress, 53, is said to be dating her bodyguard of two years, Dan Hayhurst, seven months after splitting from her ex-husband Jon Peters.
A source tells PEOPLE Anderson and Hayhurst have "been together for a while."
"She's very happy," says the source. "And they've been together for the entire pandemic. She's super happy and he's been helping her fix up her home on Vancouver Island."
'He's in his 40s. A real man, finally,' the insider added. 'He knows how to handle her. It's very cool to see. She's completely comfortable, and they're never out of each other's sight.'
Anderson and ex husband, Jon Peters went their separate ways after 12 days of marriage.
The duo had known each other for 30 years prior to their marriage, and Pamela said there were 'no hearts were broken' during their 'moment'.
The marriage ended amid allegations Pamela ended the marriage after Jon paid off nearly $200k of her debt, while other sources accused the producer of attempting to 'control' her career, according to Page Six. Both parties have denied these allegations.
Anderson was previously married to Tommy Lee, with whom she shares sons Brandon, 23, and Dylan, 22. The two were married from 1995 to 1998.
Anderson's ex-husbands include rock star Tommy Lee. She was married to him from 1995 until 1998, and they share two adult sons: 23-year-old Brandon and 22-year-old Dylan.
Shel was also married to Kid Rock from 2006 until 2007. After splitting from Rock, she got married to Rock Salomon; from 2007 until 2008 and then again from 2014 to 2015.
Anderson also dated French and Boavista footballer, Adil Rami and was also linked to WikiLeaks founder, Julian Assange.
Photos from President Buhari's daughter, Hanan and Turad Sha'aban's pre-wedding event
Photos have emerged from President Buhari's 22-year-old daughter, Hanan and Turad Sha'aban's pre-wedding event which took place on Thursday September 3.

The main wedding will take place today September 4, 2020, at the Presidential Villa, Aso Rock.

The groom is the son of a former lawmaker, Alhaji Mahmud Sani Sha'aban, who represented Zaria in the House of Representatives from May 2003 to May 2007.

See more photos below;
Khloe Kardashian and Tristan Thompson spotted looking "very happy" as they enjoy a hike together in Malibu hills (photos)
Kardashian and Tristan Thompson were recently spotted looking very happy just days after Scott Disick confirmed that the pair have rekindled their romance.
On Wednesday, September 2,  Khloe, 36, and Tristan, 29, were pictured enjoying a hike together in Malibu Hills.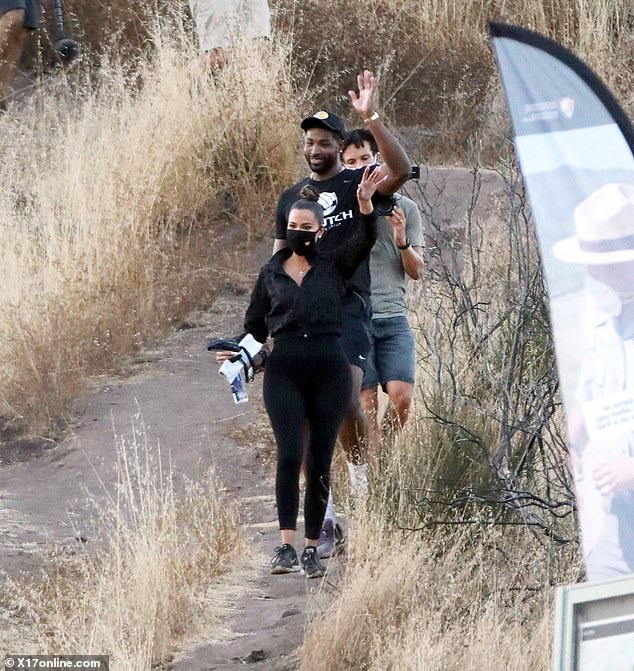 A source told E! News of the sighting, "They were having a casual conversation as they walked together. They seemed playful and very happy."
One person who seemed to be particularly enjoying himself was Tristan, who the source said "had a big smile on his face."
For the fun outing, Khloe donned black leggings with a matching zippered jacket, and face cap, while NBA star beau rocked a black and white T-shirt with shorts and a baseball cap.
Their hike comes just a week after Scott appeared to confirm they are finally back together.
Last Friday, August 28, Khloe shared a sultry snap of herself rocking a sexy bikini. Scott then wrote in her comment session that Tristan 'is a lucky man,' seemingly confirming their relationship.
Khloe and Tristan broke up in 2019 following his cheating scandal with Kylie Jenner's best friend Jordyn Woods. The pair later got back together for the sake of their two-year-old daughter, and since then they have been together.